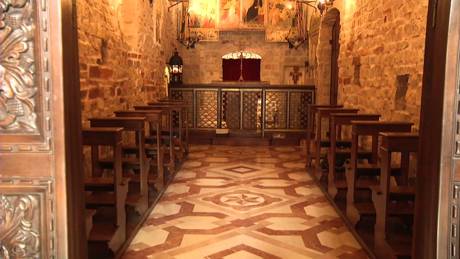 The interior of the Portiuncula in Assisi
Of all the places associated with St Francis, the little chapel in Assisi called the 'Portiuncula,' meaning 'little portion' and officially named after Our Lady Queen of Angels, is the most important for members of the Franciscan family. Its importance is expressed in a special way through the saint's appeal to Pope Honorius to grant a plenary indulgence to anyone visiting the church and praying there on its feast day in August.
In time, this privilege, which was very unusual to be granted in those days by the pope, was extended to all Franciscan churches and eventually to all parish churches, so that many more believers could experience what is also called the "Pardon of Assisi."
One could easily ask why Francis didn't ask for an indulgence for other significant places where he received the Lord's blessing? After all, the Lord spoke to him from the crucifix in the ruined church of San Damiano calling him to "rebuild my church which is falling into ruins." Then there was the Christmas in Greccio when Francis constructed the first crib to remind him of the poverty and discomfort of the Babe of Bethlehem.
Surely those places deserved a similar privilege? Or, indeed, we might consider La Verna, the mountain where Brother Francis received the stigmata just two years before his death, an expression of his deep devotion to the passion of Christ.
But, no, none of these places merited a special indulgence – only the Little Portion, the sacred space dedicated to Mary, Queen of heaven and Queen of the Franciscan Order.
Reflecting on the life story of St Francis, it strikes me that the Portiuncula stood out from everywhere else because it became his true home! You might find that strange, given that he had family in the town! But, in fact, we must recall that he was estranged from his family due to the embarrassment he had caused them on his conversion.
Begging for stones to rebuild a church, dressed in rags, did not go down well with his merchant father and rising middle class family. At one stage, his dad locked him in the cellar for days to knock some sense into him. Finally, there was a public show-down in front of the bishop when Francis exchanged his earthly father for his heavenly One, so he really needed a new home, a spiritual as well as material one.
A home is not just a place to stay, a roof to shelter under – it is essentially about family and, ideally, a loving family. This is what the saint experienced in the Portiuncula, a new Father, the heavenly one; a new mother, Mary, Queen of the Angels, and most important of all a set of brothers, men who came to join him in his new way of life. There would also be a most dear sister, Clare, who left her own family under cover of darkness to find a new home in imitation of her mentor, Francis.
This new home was above all a place of pardon, where he felt accepted by God when rejected by his natural family. Francis could find forgiveness for the wasted years of playboy existence, a frivolous lifestyle of misspent youth, for those embarrassing sins of omission that will now make way for a life of disciplined, sacrificial commitment to sharing the good news of Jesus.
From this home, the rebuilding of his life will begin and, with it, the rebuilding of the Church. No wonder, then, that Francis was happy to share his home, this place of grace with all who are looking for pardon and peace. And, lucky for us, Portiuncula comes to Multyfarnham, for distance means nothing to our pardoning God.
The message of coming home to pardon is, of course, a central theme in the Good News of Jesus, as Francis well knew. In the classic tale of coming home, the Prodigal Son (Lk 15) must swallow his pride and shame and take that humiliating journey after recognising that his real treasure lies hidden in the father's house, not in the flashy lights of the faraway disappointment. As he makes his way slowly back, his father sees him and rushes out to welcome him home.
And his welcome is like a plenary indulgence, a full pardon. No recriminations here, no forcing the boy to eat humble pie! It's full on, a plenary party, indulging in food and drink for he who was lost is found, the one who was dead is alive. Thank God he is home!
We pray too for all those who have not found their true home in the Father's house, in the Son's Church, the Spirit's Temple. We pity the atheists and agnostics, the cynics, and sceptics, those who feel no need of pardon and those who are simply lost sheep, wandering in the wilderness.
May they know the joy of coming home, of being embraced by their waiting Father, indulging them with the best robe, a ring on their finger and the fatted calf!
Kieran Cronin OFM